Voice/Singing Lessons
What type of voice/singing lessons do you offer?
We have many students who take voice/singing lessons at our Sherman Oaks. You can also opt for online voice lessons. Students can learn to sing all kinds of music from their favorite pop artists to classical arias.
Our voice teachers have university training in music specializing in voice and sing everything from pop, rock, jazz, blues to opera. Our teachers all have performance backgrounds as well.
Just a sample of what a student will learn in lessons includes how to breathe correctly, how to increase their range, proper pitch, how to project and stage presence.
Do you offer online voice lessons?
Yes. Our teachers are also trained to give you the best online voice lessons experience. With younger children it is best to have a parent assist with the online experience. Click here for our Online Lessons page.
What is a good starting age for voice/singing lessons?
10 years old is recommended as the youngest age for private vocal lessons. Due to the physical nature of voice/singing lessons (proper breathing techniques, development of the vocal cords and lung capacity), the younger body is generally not yet ready for the rigors of vocal technique. For children younger than 10, we focus on pitch and rhythm without overextending their vocal cords, in a fun, relaxed environment.
We offer private voice lessons in 30 minute, 45 minute or 1-hour classes.
We also have our popular Join The Band® program that our students can join to play in a real band setting. In our Join The Band® program, students can participate in our Singers Performance classes and/or a regular band class. Over the years we have found the combination of a weekly private voice lesson and weekly band rehearsals are very motivating to our students.
Do you offer voice/singing lessons for teens and adults?
Yes, we offer voice lessons for teens and adults. Whether you are singing pop, rock n roll, jazz, blues, classical etc… we have the right teachers for you. If you are starting lessons for the first time or you just need to hone your skills, our qualified staff of voice teachers can customize a voice lesson plan just for you.
When can I start my lessons?
At Join The Band we offer year lessons all year round. Fall, Winter and Spring lessons adds a valuable music lesson to your child's school year. Summer voice lessons are a fun way to keep kids busy while school is out.
Call us to today and start your voice/singing lessons tomorrow! 818-345-8950
We are located at 5928 Van Nuys Blvd, in the Sherman Oaks community of Los Angeles.
Call To Start Your Voice Lessons!
4 Ways for you to have the Best Voice Lesson Experience
Find music school that has experienced university trained teachers for voice lessons.


Choose a music school that caters lessons to meet your needs.

Look for music program with experienced music teachers.

Ask if the music school offers yearly recitals.
Play Music – Make Friends – Have A Blast!
For over
20 YEARS
Join the Band has been offering music lessons and band programs to the Sherman Oaks community of Los Angeles.
SINCE 1998
JOIN THE BAND® MUSIC LESSONS STUDIO
CALL TODAY!818.345.8950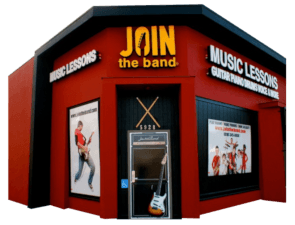 5928 Van Nuys Blvd. Sherman Oaks, CA 91401
Hours of Operation
MON-THU

| 11am - 9pm

FRI

| 11am - 7pm

SAT

| 10am - 3pm

SUN

| 10am - 2pm