Drum Lessons
What type of drum lessons to you offer?
Drum set is a very popular instrument. We offer lessons for kids, teens, and adults at our Sherman Oaks studio. You will find our studio to be a clean, state of the art music lessons studio.
Our drum teachers are university trained music professionals that love to teach. Because of this they are well versed in teaching proper drum set technique in all styles. Including rock, jazz, blues, funk, swing and more.
Private lessons are offered in 30 minute, 45 minute, or 1-hour classes.
Students can also join our popularJoin The Band® programand play in a real band setting. Because we offer a band program, our drum students can apply their lessons in a practical way.
Do you offer online drum lessons?
Yes. Our teachers are also trained to give you the best online drum lesson experience. With younger children it is best to have a parent assist with the online experience. Click here for our Online Lessons page.
What is a good starting age for drum lessons?
We have seen kids as young as five years old start drum lessons. However, we will gladly discuss what would be best for your child. Call to schedule a trial lesson to determine if your child is ready for lessons. Lessons are taught on a drum kit at our Sherman Oaks studio. Students can get started practicing at home on practice pads before purchasing a drum set. We can guide you in finding the right drum set.
Do you teach lessons for teens and adults?
Yes, we offer lessons for teens and adults at our Sherman Oaks studio. Regardless of style, we have the right drum teacher for you. If you are just starting lessons, or you need to improve your current skills, our qualified staff of trained teachers can customize your lesson plan.
What our families are saying…
My boys have had a wonderful experience at Join the Band since last summer. They have been taking drum lessons with Dave, a fantastic and kind teacher, who has truly fostered their love of music and learning in a safe and encouraging environment. Dave is amazing with both of my boys, and especially attuned to the needs of my special needs son. The company has gone above and beyond to meet my kids' unique needs. I highly recommend music lessons at Join the Band for every type of child. We feel very lucky to have found this place!
Call us to today and start your lessons tomorrow! 818-345-8950
Join The Band is located at 5928 Van Nuys Blvd, in the Sherman Oaks community of Los Angeles.
One of our drum students was featured in a national commercial. Special thanks to all of the Join The Band drum teachers that prepared him for this opportunity!
Call To Start Drum Lesson Today!
4 Ways for you to have the Best Drum Lesson Experience
Take lessons with experienced university trained teachers.


Find a music school that caters lessons to meet your needs.

Choose a music program with experienced music teachers.

Ask if the music school offers yearly recitals.
Play Music – Make Friends – Have A Blast!
For over
20 YEARS
Join the Band has been offering music lessons and band programs to the Sherman Oaks community of Los Angeles.
SINCE 1998
JOIN THE BAND® MUSIC LESSONS STUDIO
CALL TODAY!818.345.8950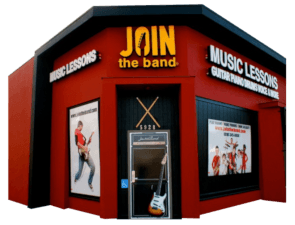 5928 Van Nuys Blvd. Sherman Oaks, CA 91401
Hours of Operation
MON-THU

| 11am - 9pm

FRI

| 11am - 7pm

SAT

| 10am - 3pm

SUN

| 10am - 2pm