REASONS FOR CHOOSING JOIN THE BAND
1. TEACHING IS ALL WE DO.
We are not a retail store selling instruments or music. This allows us to focus on providing our students the best possible music lesson instruction. We have over 30 years of experience in private music lesson instruction.
2. MORE THAN MUSIC.
In our music lessons studio everyone participates in and encourages… Teamwork, Respect, Patience, Focus, Kindness, Honesty and Support.
3. UNIVERSITY TRAINED TEACHERS.
Our teachers are experienced professional musicians that love to teach. But most of all they are able to adapt the lessons to meet the needs of each student.
4. PRIVATE MUSIC LESSONS
The best music lesson experience is one on one instruction. This allows the teacher to focus entirely on one student and gauge the lessons individually.
5. ALL AGES -BEGINNER TO ADVANCED.
If you are new to music lessons we are very experienced with beginners and take them to very advanced levels. Catering the lessons to your interests also ensures a positive experience.
6. AGE APPROPRIATE CLASSES.
We schedule our classes by age and level. All classes are supervised by a JTB Band Leader in a supportive environment.
7. MUSIC STUDIO LESSONS
We have found the best results when the students come to the studio. The studio provides a professional atmosphere for music lessons. Though we do provide in-home music lessons, we find that lessons in the studio provided a more focused lesson experience.
8. CONCERTS – "JOIN THE BAND" BAND PROGRAMS.
With our popular "Join the Band" program, students can regularly perform for family and friends. With each performance we continually see more confidence in our students. We also are active in community events and we encourage our students to participate.
9. EXAM AND AUDITION PREPARATION
Lessons can be catered to help prepare students for auditions and exams for their school bands and college. We have been very successful at preparing our students for these types of auditions and exams. We specialize in the audition requirements for Hamilton High School and Los Angles County High School for the Arts / LACSHA.
10. TEACHING STANDARDS.
We have seen our students attend prestigious local music high schools and colleges such as Los Angeles County High School for the Arts (LACHSA), Hamilton Magnet, Berklee College of Music, Juliard, USC, Cal Arts, and more!
Call to Register Today!
4 Ways for you to have the Best Music Lesson Experience
Choose a music school that has experienced university trained teachers.
Select a music school that caters lessons to meet your needs.
Choose a music school with experienced music teachers.
Select a music school that offers yearly recitals.
Play Music – Make Friends – Have A Blast!
For over
25 YEARS
Join the Band has been offering music lessons and band programs to the Sherman Oaks community of Los Angeles.
SINCE 1998
JOIN THE BAND® MUSIC LESSONS STUDIO
CALL TODAY! 818.345.8950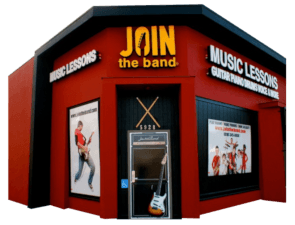 5928  Van Nuys Blvd. Sherman Oaks, CA 91401
Hours of Operation
MON-THU

| 11am - 9pm

FRI

| 11am - 7pm

SAT

| 10am - 3pm