Join The Band In Voyage LA
Join The Band and founder John Mizenko was recently featured in a Voyage LA article.
You can read a copy of the article below. or click on the link below to go to Voyage LA.
More on JTB
PLAY – David Grohl & Join The Band
LINE 6 – Join The Band and Music Education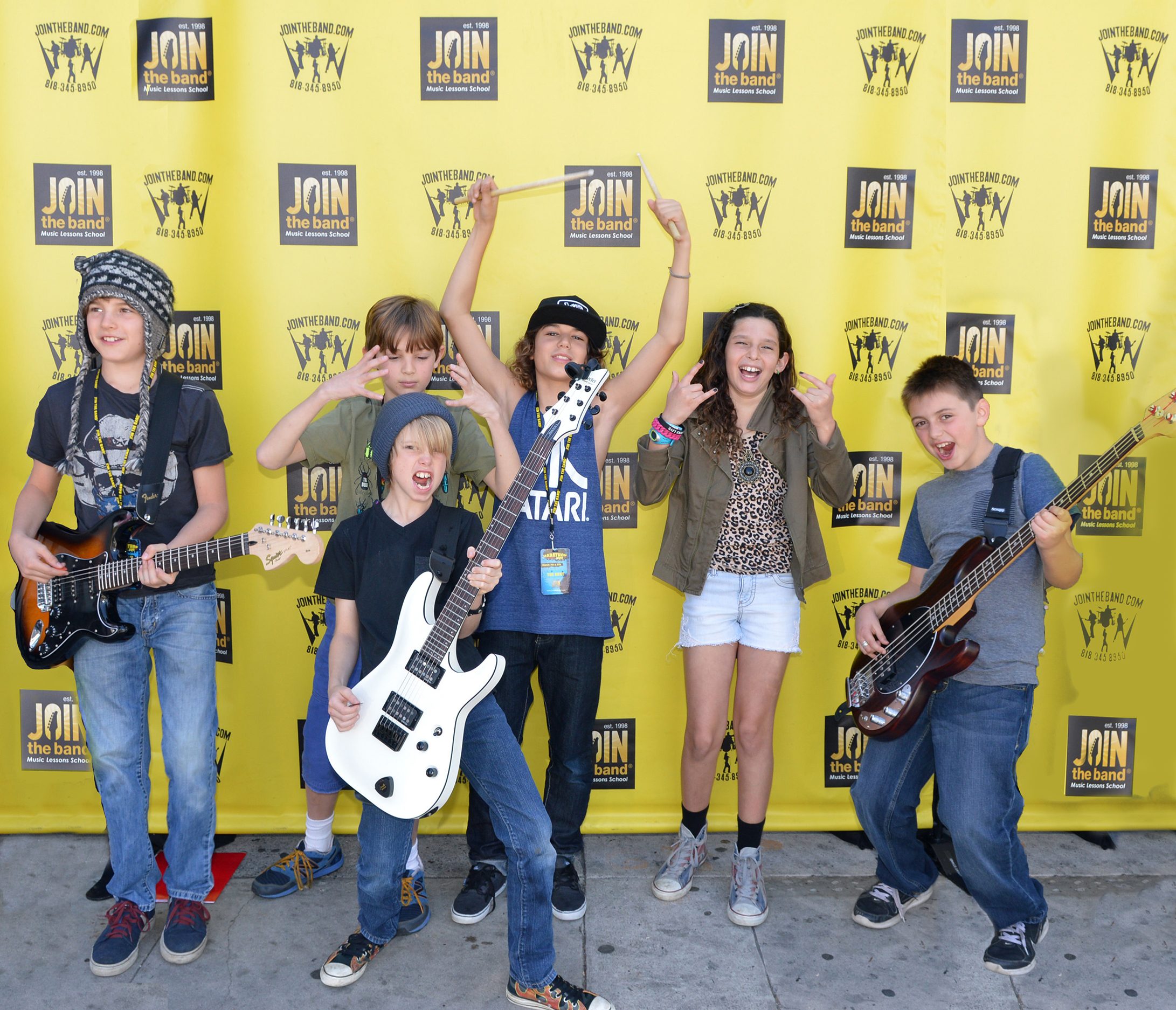 Today we'd like to introduce you to John Mizenko.
Hi John, it's an honor to have you on the platform. Thanks for taking the time to share your story with us – to start maybe you can share some of your backstories with our readers.
Originally from Cleveland, Ohio, I moved to LA in 1985 after receiving my Bachelor of Arts in Music from the Berklee College of Music. I then spent about five years gigging and teaching in Ohio's Cleveland, Akron area. I arrived in LA with no contacts and a desire for a new start. I started working a variety of odd jobs to pay the rent.
My first job was as a courier driving around L.A., making deliveries (many of the deliveries were to recording studios, record companies, and management). This was back in the day when all we had for navigating Los Angeles' sprawling neighborhoods was a Thomas Guide. Remember those? The courier company did not provide a radio, so I had to stop at payphones to call in for delivery updates. The job sucked, but I learned how to get around Los Angeles.
One day I was going into Capital Records to make a delivery, and coming out was a former agent for a band I worked with back in Cleveland. It was my first connection in the music industry. After leaving the courier job, I worked in phone sales, eventually leading to a job at a guitar company (JB Player) selling to music dealers all over the country. The guitars were nothing to brag about, but the circle of musicians I met led to many lifetime friendships.
I was also fortunate to be featured in Guitar Player Magazine in what was then called the Spotlight column by Mike Varney in the June 1986 issue—while at JB Player, I was selling and working on guitars during the day and rehearsing, recording, and gigging with whatever projects came my way. One of the many projects I worked on was with the agent I ran into at Capital Records.
Eventually, the guitar company folded, and I started teaching guitar lessons at a local music store in Sherman Oaks, Baxter Northup. At Baxter Northup, I got to know yet another new circle of music friends. I took a liking to teaching and noticed how influential I could be with my students. During this time, the saxophone teacher (David Crozier) and I started putting together "combo bands" with students emphasizing jazz and blues tunes.
We would rehearse in the back of the store, and after six weeks, we would have kids perform in the store. There was no set schedule. David and I would put the bands together whenever we felt like it and whenever we needed a little extra money. Eventually, I started booking separate band classes with my guitar students who wanted to play standard rock'n'roll tunes.
I posted a signup sheet in the store and called the program "Join The Band." After all, that is precisely what I was trying to get students to do. After about one week, there was only one name on the signup sheet, but eventually, through word of mouth and networking with other music teachers, I had enough students for about 3-4 bands. "Join The Band" was born! The year was 1998.
Would you say it's been a smooth road, and if not what are some of the biggest challenges you've faced along the way?
Managing Join the Band for 25 years has had its challenges. The biggest challenge was learning how to create and sustain a business. I went from being a solo operator (in 1998) teaching bands out of a friend's guest house to eventually having 20+ employees on my team and owning a commercial building with three fully-backed rehearsal rooms and seven private teaching rooms. It has been quite a ride.
In 2008, my wife Lynn and I joined a mastermind group of music and dance studio owners. This mentoring group has had such a profound impact on our business. Before joining the group, we thought all the problems we experienced were unique to just us. We could not have been more wrong.
We learned how to implement new systems for running the business, including managing employees, better marketing for our business, improving our customer service, and so much more. Establishing relationships with these fellow studio owners has helped grow our business. And being able to reach out to one another to strategize and navigate the challenges of running a service business during COVID was invaluable.
During COVID, I had weekly zoom meetings with this group to bounce ideas around and discuss how to create and manage virtual music lessons and group band classes. I regularly met with our dedicated Join The Band teachers on Zoom. It felt like we were starting all over again. But we made it happen and were able to continue our business throughout the 2-year COVID shutdown.
Throughout all these years, I have found that successfully managing people, both customers and employees, makes a business thrive and grow—as well as being prepared to handle unexpected challenges or situations. I have (slowly) learned how to avoid overreacting when presented with an unforeseen challenge and to be prepared to own up when my team or I have failed a client.
As you know, we're big fans of Join The Band. For our readers who might not be as familiar, what can you tell them about the brand?
Join The Band has been serving the community since 1998. We offer our popular band performance program, private lessons, group lessons, and summer camps. The staff at Join The Band are all professional musicians who love to teach and are passionate about passing their knowledge and experience to our students.
Join The Band is known for our band performance program. Since 1998 (25 years as of this writing!), we have placed kids, teens, and adults in bands and performed all over Los Angeles. Our students have performed at iconic LA venues, including The Mint, The Federal Bar, The Roxy, The Whisky A-Go-Go, The Knitting Factory, and many others. In the early years, many of our shows were held at Cozy's, a well-known but sadly now closed Blues club in the Valley.
I believe what sets Join The Band apart is the time and attention we give to our student's needs and goals. We ensure each student is placed with the right teacher and band class. We regularly check in with students and teachers. This communication with students and staff is essential to our success as a music lessons studio.
When playing in our band program, students learn the many aspects of being in a band, such as selecting appropriate songs for everyone's skill level and the correct way to use studio gear (amplifiers, tuners, keyboards, mics, etc.). And they also learn how to master and overcome staging and live performance challenges.
Our band classes are a safe team environment where everyone is heard and treated equally. Classes are not centered around individuals who may come in with their agenda. The big payoff for everyone in the band program is the concert performances. Band members perform for family and friends at a popular LA music venue to a packed house. It is a big confidence booster for our performers.
Knowing that they put in the work and had a successful performance is a big deal. Sometimes, however, they may not have the best show. When that happens, we go over what happened. What did we learn, and how can we improve that experience next time? We teach them that even professional musicians can have bad shows.
The difference between the amateur and the professional is that the amateur will dwell on what went wrong. The professional will acknowledge what went wrong and use it as a learning experience to improve the next show. Attending one of our concerts is the best way to experience what Join The Band is about. The energy level in the club is always high. Family and friends in attendance are all there to support our students performing at the show.
Having produced over 125 concerts throughout the past 25 years, I can confidently say that all the shows have been a fantastic experience. Watching the growth of our students from the beginning of each session to their concert day is extremely rewarding for our Join The Band staff. We also have a roster of former Join The Band students who have gone on to pursue exciting and successful music careers.
To name a few:
Alex Sill – Extraordinary guitarist with the Simon Phillips band. AlexSill.com "As a professional musician, I can unequivocally say that my teenage years at Join The Band left a lasting impact. Beyond Join The Band has a great team of caring and well-versed musical instructors; they provide a learning environment that is essential for musicians, especially young and developing ones."
Adam Levin – Drummer for the X-Ambassadors. Xambassadors.com "Throughout this process, John was always encouraging and nurturing but always pushed me to do my best… I can't recommend the program enough".
Eric Gurrola – Local LA Jazz Bassist. MikeGurrolaMusic.com/about/php "John Mizenko was an incredible instructor who turned me on to a lot of great music and who always succeeded in getting the combos I played in sounding like a solid unit/band. Having been a professional musician (both touring and in-town) in Los Angeles for just about ten years I often look back on the incredible start to my musical journey that Joins The Band provided."
Andrew Wells – Music Producer – "I made some of my earliest musical memories in Join The Band. I started around 11 and am now 24 and working in music full time/ Everyone at Join The Band is fantastic and shaped where my life went in the best way.
Evan Stanely – Guitarist, Singer/Songwriter, Producer "I can't overstate the impact that JTB had on me, both as a musician and as a person. John is knowledgeable, patient, experienced, and most of all, kind. He gave my passion structure. Practicing at home is one thing, but working with others as a cohesive unit is entirely different. JTB offers a much more holistic approach to your average music lessons and there is no doubt that my time there played an integral role in turning me into the well-rounded musician I am today."
Tyler and Shane Fogerty – Touring musicians – "A fun, welcoming environment for any caliber of a musician. Many fond memories here learning guitar and how to play together with a real band. Professional rehearsal studios and friendly knowledgeable instructors! Highly recommend it!"
What do you like and dislike about the city?
LIKE
I love the diversity of cultures in Los Angeles. The people, food, the arts, music, etc. There is always something new to explore. I also feel lucky to be only ten minutes away from the mountains for a run or hike and just 20 minutes away from the beach.
DISLIKE
1. For a city the size of Los Angeles, the club scene is very small compared to other cities. The "House Of Blues" had to shut down! Even though this was due to real estate issues, it is a shame that LA (one of the major hubs of the music industry) cannot support more music venues.
2. Anyone who lives in L.A. is painfully aware of how badly traffic affects their quality of L.A. life. I have been fortunate enough to live only a few miles away from my studio and to be able to work most days out of my home office.
Contact Info:
https://www.jointheband.com/wp-content/uploads/2019/03/join-the-band-header-logo.png
0
0
John Mizenko
https://www.jointheband.com/wp-content/uploads/2019/03/join-the-band-header-logo.png
John Mizenko
2022-11-04 10:16:57
2022-11-04 21:47:14
Join The Band In Voyage LA